Create a culture of integrity
Conduct risk is on the rise globally and is impacting businesses of all sizes across all industries.
Corethix is a conduct risk solution that helps organisations create a culture of integrity by engaging all of your people on their key employment, risk and compliance obligations whilst providing a holistic view of how conduct risk is being managed across the business.
Most organisations are ill-equipped to adequately deal with the rapidly evolving legal and regulatory risk landscape, and now more than ever employees, customers and shareholders expect organisations to 'do the right thing'.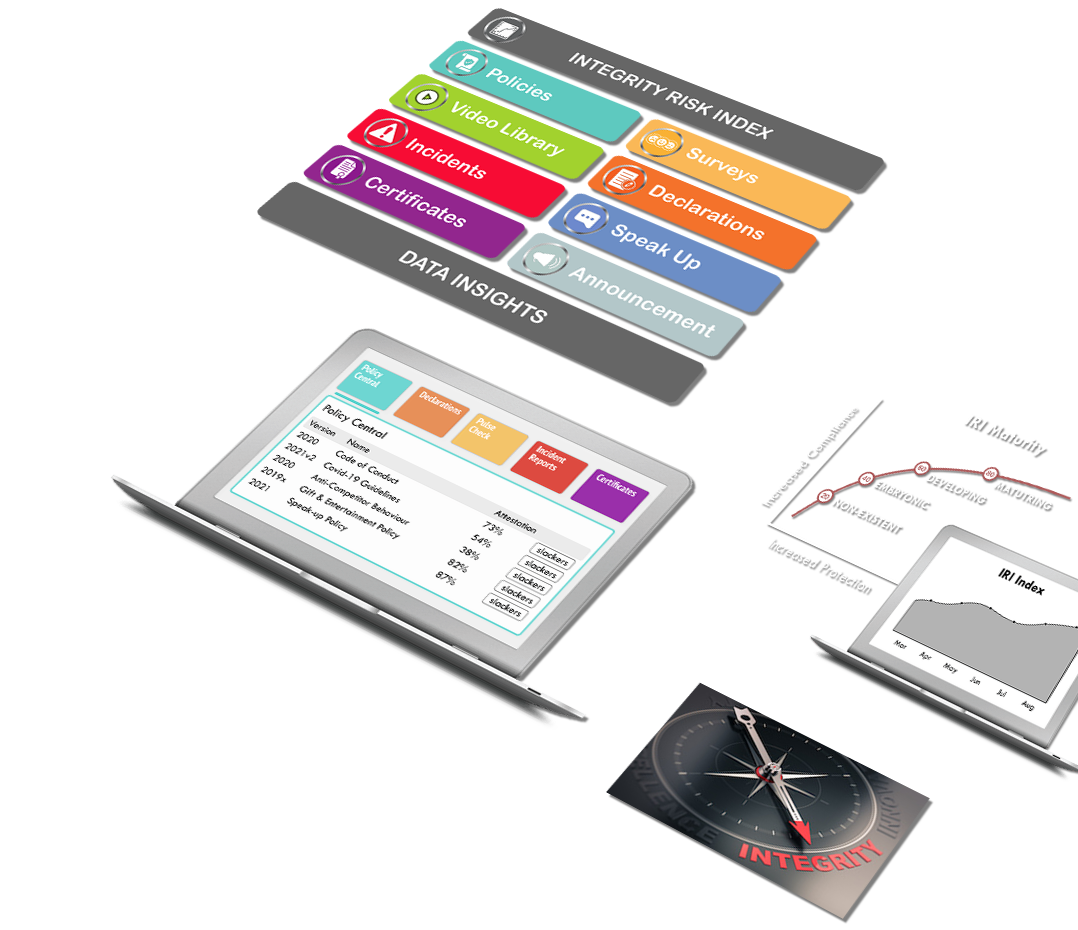 Help your organisation do the right thing
Every organisation, regardless of its size, industry or maturity is exposed to integrity risks such as fraud, corruption, conflicts of interest and employee misconduct.
With emerging legal and regulatory obligations around Whistleblowing, Modern Slavery, Cyber security and Environmental Sustainability (ESG), it can be difficult to keep your integrity risk and compliance program on track.
Corethix proactively manages integrity risk to ensure your organisation is protecting its people, reputation and bottom line.
‍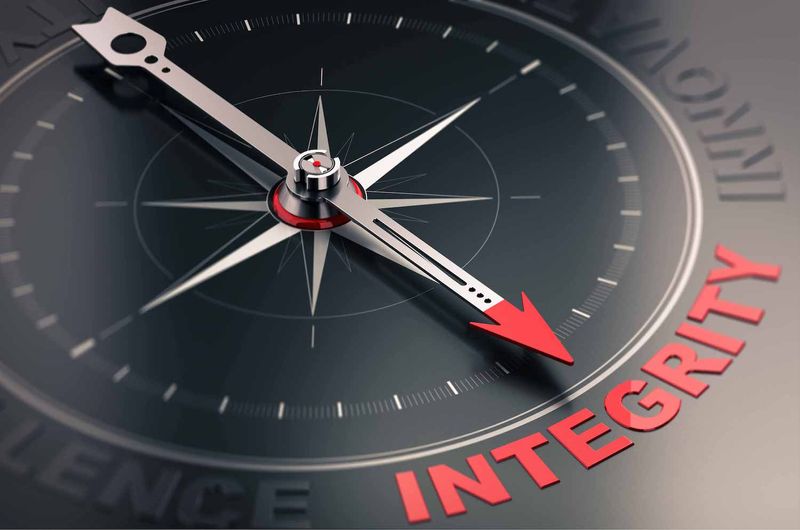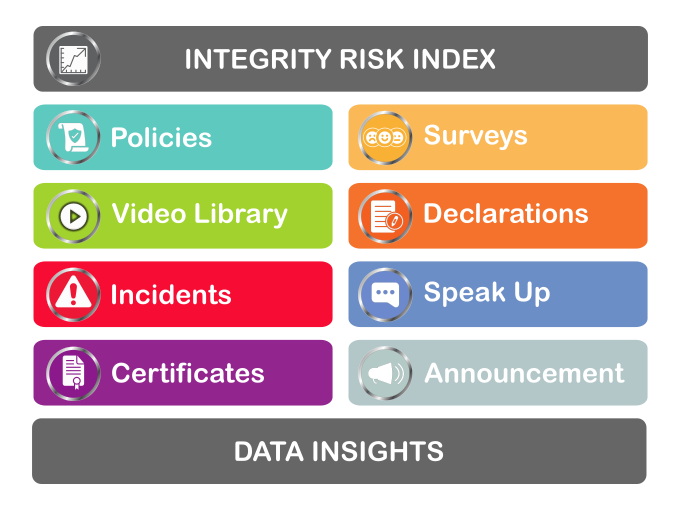 One platform for integrity risk and compliance
Corethix brings together all of your out-dated and disconnected risk and compliance activities into one, centralised online solution with 8 modules.
The modules include policy management, declarations, whistle-blower hotline, incident reporting, and certificates in our easy to use, and quick to deploy solution.
Corethix also includes a real-time dashboard with analytics to measure the effectiveness of your integrity program
Make compliance easy for your people
Increase engagement and awareness of your employees, contractors and suppliers by taking your risk and compliance program online with Corethix. Our leading cloud-based integrity risk platform is accessible anywhere, any time and on any device making it easy for your people to meet their compliance obligations.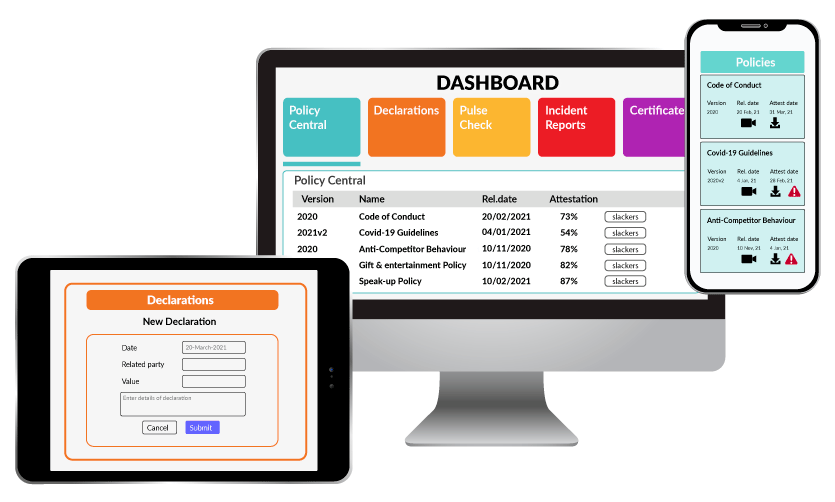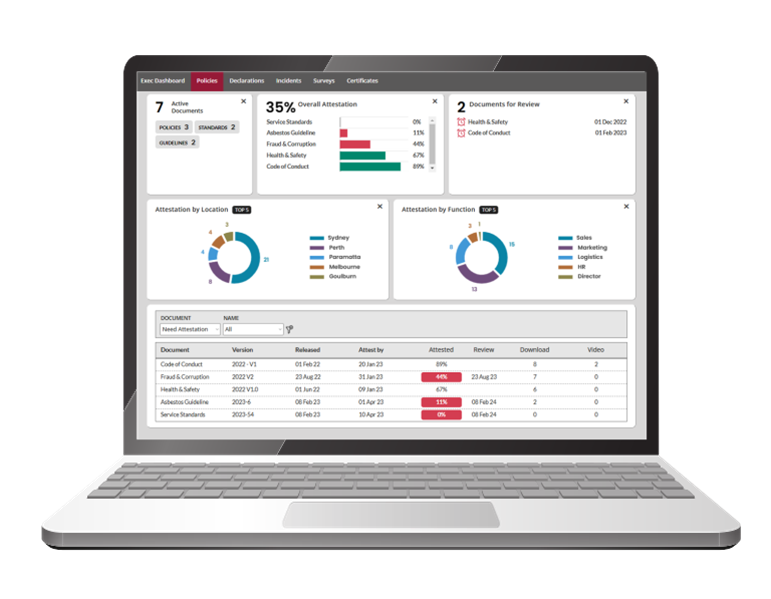 Data driven insights
The included dashboards provide program administrators with a real-time display of key data to allow proactive management, up to-date reporting and a library of historical data.‍
All user interactions are recorded in the database providing a fully detailed audit trail for analysis and incident investigation.
Monitor and measure the effectiveness of your compliance program
Corethix has developed an innovative Integrity Risk Index (IRI) that provides a real-time score showing the effectiveness of your compliance program at both a user and organisation level.
Our platform provides real-time data and an audit trail of all user interactions to help measure engagement and to drive future compliance and education initiatives.
Our innovative IRI is designed to help boards, directors and executives to get a real-time 'pulse' of the organisation's culture of integrity.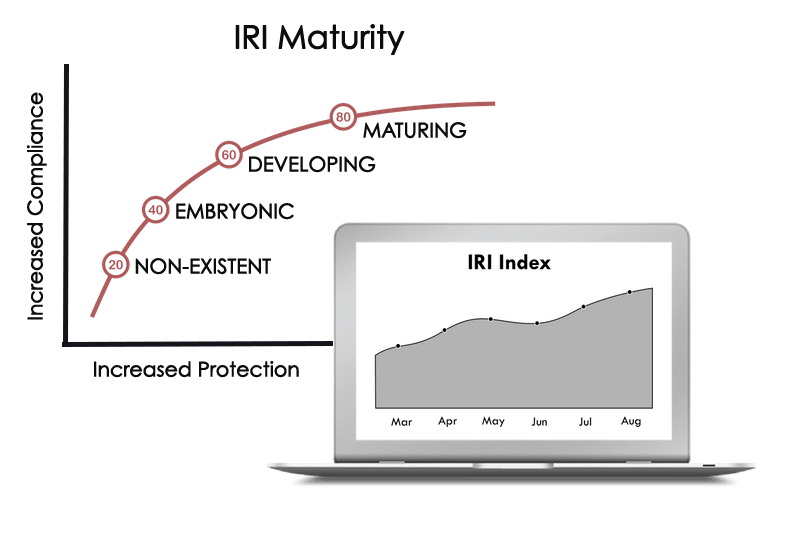 Included in the trial
    Centralised announcements
    Concurrent user surveys
    Certificate management
    Incident reporting
    Linked video resources
    Declarations reporting
    Centralised announcements
"Corethix has been exceptional to work with. In comparison to previous jobs, I haven't had access to such a great platform"
"Corethix aligns with our company's core values which is to be – Ethical. Be respectful, honest, and fair. Have Integrity"
"Corethix has been exceptional to work with. In comparison to previous jobs, I haven't had access to such a great platform"